While there are many philadelphia dermatologists, most pale in comparison to the experience and compassion of Dermatology of Philadelphia's incredible crew!
Here we sit down with Dr. Shoshana Grossman, Philadelphia dermatologist with Derm of Philly, to learn more about what inspired her to become a dermatologist, how neuroscience and psychology apply to her practice and her skin care advice for parents.
Question: What inspired you to become a dermatologist in Philadelphia?
Answer: I began my medical training as a medical student at Temple University in North Philadelphia. My four years of medical school taught me the value of learning and working with a city population – I got to know the heart and soul of Philly as a student and knew that I wanted to continue here for my residency training. The diversity of Philadelphia has given me a unique dermatological perspective, and there is no place I would rather continue my lifelong learning.
Question: What is the most unique experience you've had as a Philadelphia dermatologist?
Answer: One unique experience that I had this past year was the opportunity to help identify and treat members of the local Philadelphia community who had acquired the monkeypox infection. As a dermatologist, I have been able to help control and prevent some of the feared sequelae of monkeypox: bacterial superinfection and permanent scarring. By offering medical advice and support, I have had the chance to help alleviate some of the panic felt by our patients.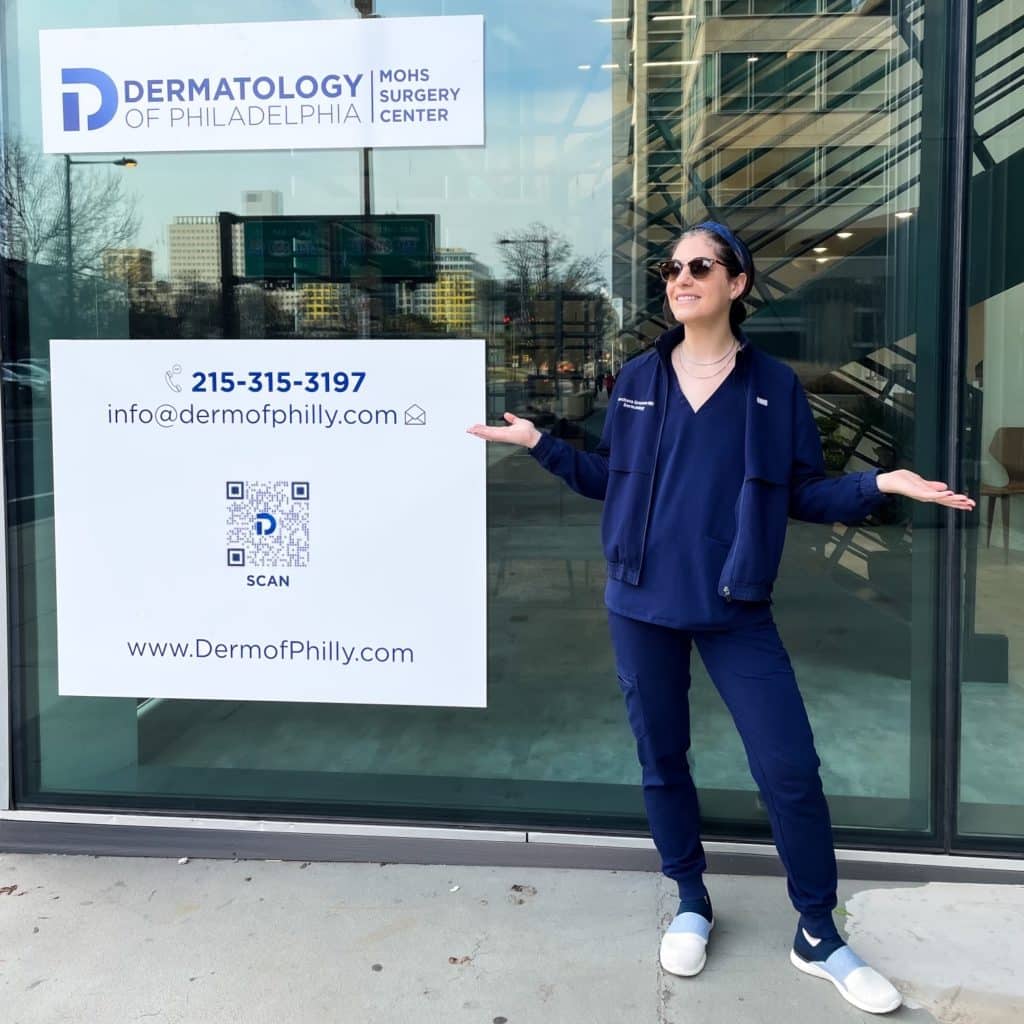 Question: What learnings from your degrees in Neuroscience and Psychology do you find yourself applying to your dermatology practice?
Answer: Many people assume that dermatology is simply "skin deep." In reality, every dermatological issue requires a deeper understanding of our overall physiology. Whether I am treating the hormonal component of acne, or controlling neuropathic pruritus, I am continually relying on much more to guide my treatment than what can be seen on the surface.
I think that anyone who has struggled with a chronic skin condition is familiar with the toll it can take on their mental health. I consider a treatment to be successful when it allows you to take back control of both your physical and psychological health.
Question: What do you enjoy most about being a dermatologist with Dermatology of Philadelphia?
Answer: The people I spend my time with! Our staff is made up of some of the most fun, caring and positive people that I have had the pleasure to work with – they make coming to work every day so enjoyable. I have also been so lucky to have great patients – the opportunity to develop special connections with lovely people feels very unique.
Question: What were your top takeaways as Chief Resident in your dermatology residency at Temple University Hospital?
Answer: The most important thing that I learned is that lending an empathetic ear is often what is needed the most. I realized that it was this shared trait among my own mentors that gave me the strength to persevere during the ups and downs of my personal and professional life.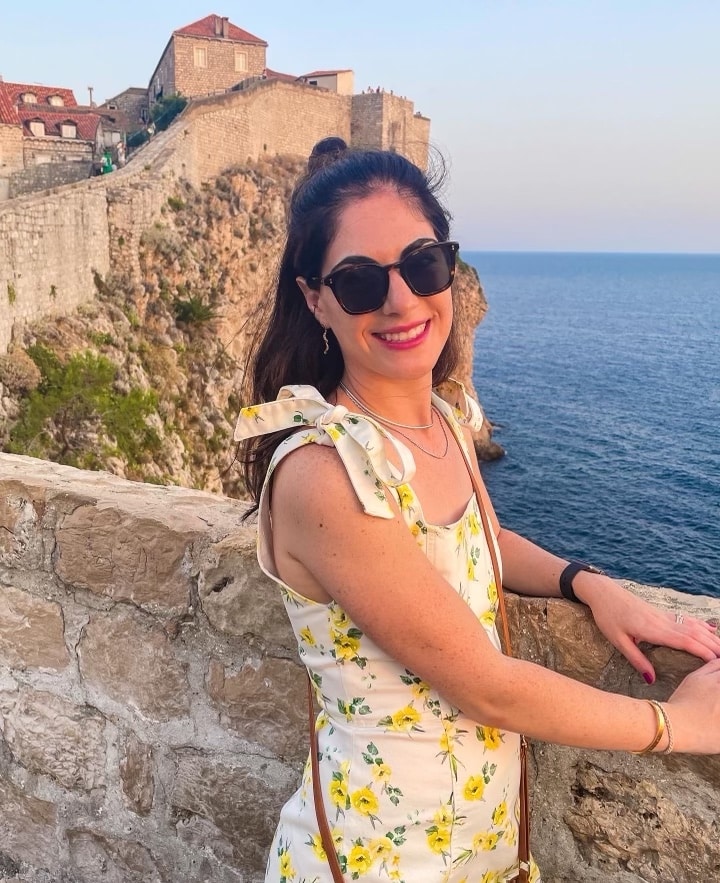 Question: What advice do you have for parents looking to establish skin care routines for their children?
Answer: Keep skincare simple, develop a routine and make it fun! Check out my recent blog post on nighttime pediatric skin routines.
Question: What do you enjoy doing in your free time?
Answer: I love to challenge myself with high-energy workout classes, like HIIT and spinning. I've never considered myself as much of a baker, but I have recently started making challah bread with my five-year old son; most of what we make is edible. I also really enjoy traveling with my husband – this summer, we celebrated our 10 year wedding anniversary with a trip to Croatia. Our goal is to visit all 7 continents by our 20th wedding anniversary (we still have not crossed Africa and Antarctica off our list)!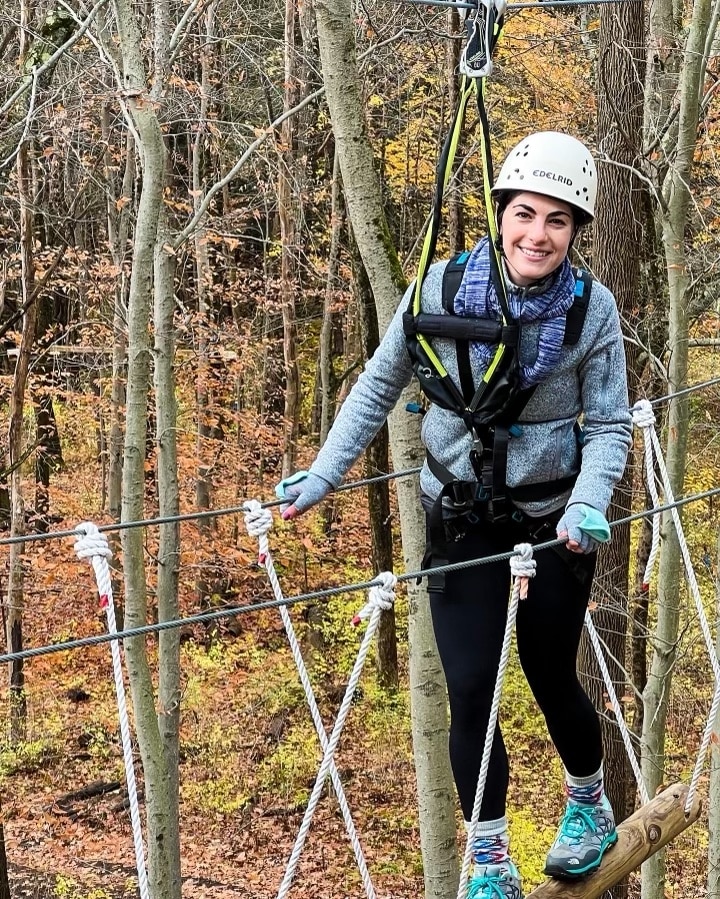 Question: What prompted you to expand your office hours into the evenings?
Answer: I have always been frustrated with how stressful it can be to make medical appointments fit around a busy work schedule. I hope that by offering evening hours, I can relieve some of the daily pressures my patients have when it comes to seeking the care they need.