Parking Options for Center City Philadelphia Office
We appreciate the effort it takes for you to come into the city and park to see us.
For suture removal and wound check visits, there are a few free 30-minute loading zone spots directly in front of our office (in front of the small planters).  Please read signs carefully.
There are 3 other parking options:
1) Street parking- $1.60/hour: Street parking is usually available around our office. Please see below for details about the best place to find street parking.
2) Gateway Parking Garage (Directly across the street from the office)
1540 Spring Street, Philadelphia, PA 19102
$10 (for less than 4 hours) – $14 (more than 4 hours)

We will validate your parking for the Gateway Parking Garage only. DO NOT PAY FOR PARKING AT THE GARAGE. If you pay for parking at the garage directly, we will not be able to validate with the discounted rates.  
Self-park in the parking garage directly across the street from our office.  The entrance to this garage is on Spring Street.   Pull a ticket at the garage gate. DO NOT enter a credit card or pay for your parking at the garage. Bring your parking ticket to the office. You will pay for your parking in our office ($10 if less than 4 hours or $14 for more than 4 hours) when you check out.  A payment sticker will be placed on the back of your parking ticket. When leaving the garage, you will first scan the front of the ticket then scan the barcode sticker on the back of the ticket.
3) Flat rate valet parking at Sheraton Hotel- $20 (all day): We arranged for discounted valet parking for $20 at the Sheraton Hotel next door to our office. We do not recommend self-parking at the Sheraton Hotel.
4) Additional Self-Parking options- $12:  Callowhill Garage. Self-park, $12 flat rate all day.
For further details and maps, please see below.
We have arranged for discounted valet parking for our patients next door at the Sheraton Hotel.  Many Mohs surgery patients find the valet parking option useful. $20 flat rate.
Enter the driveway circle from 16th street just past our office on the left or enter from 17th street
(hotel entrance).
Pull up to the main door of the hotel as if you were staying at the hotel and tell the attendant you are a Dermatology of
Philadelphia patient.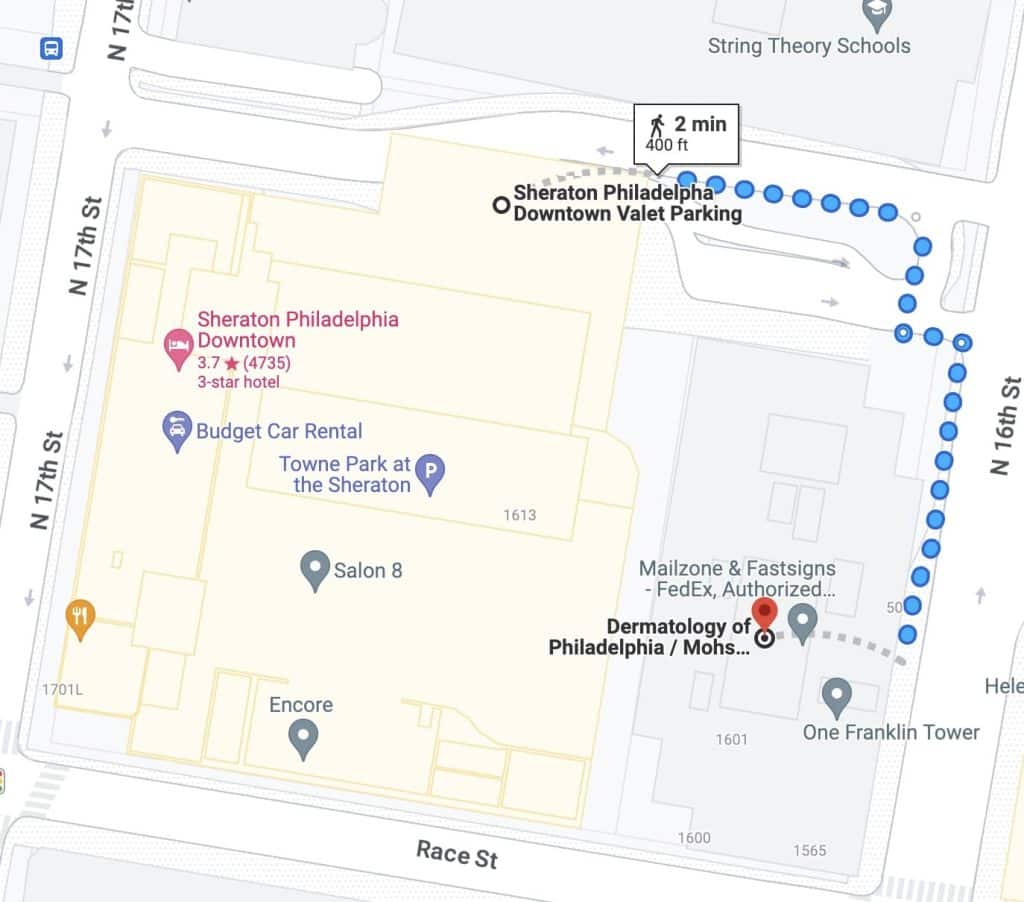 Option 1- Discount Validated Parking
Discounted Garage Parking for Dermatology of Philadelphia
Gateway Parking Garage
Garage is directly across the street from our office
1540 Spring St
Philadelphia, PA
$10 (Less than 4 Hrs)
$14 (More than 4 Hrs)
Entrance on Spring Street (1540 Spring Street)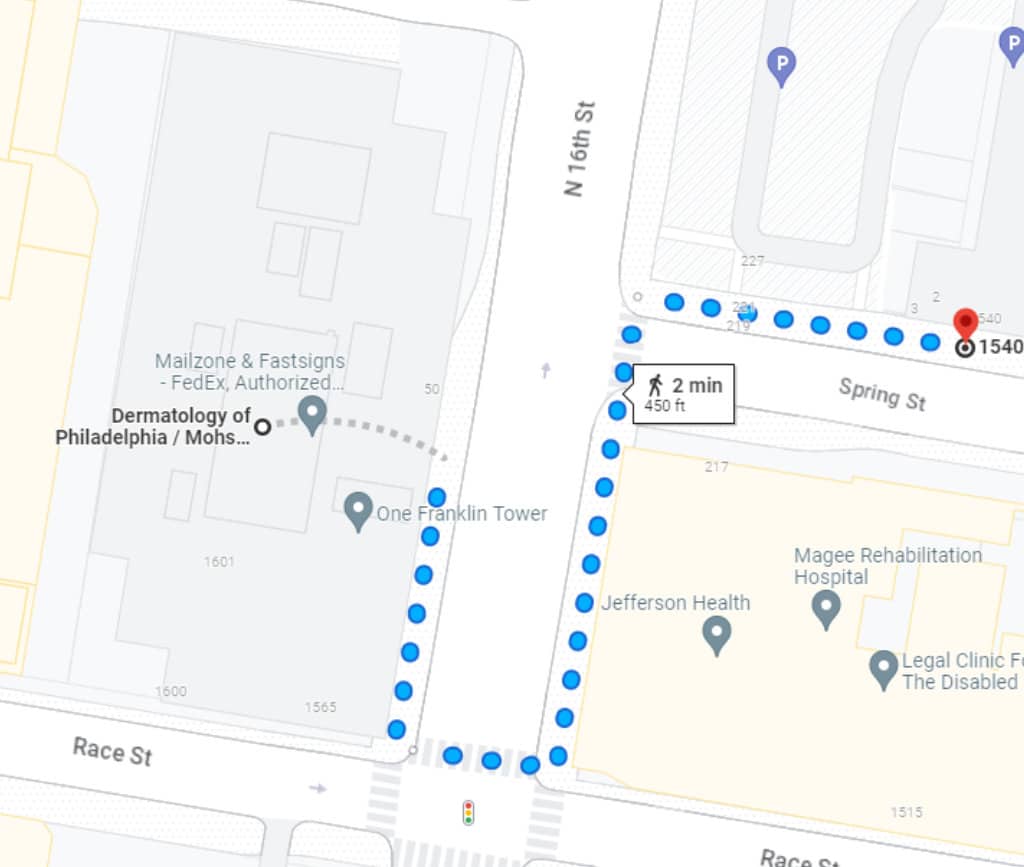 Self-park Garage
Option 2- Callowhill Garage
5 minute walk to the office
Callowhill Garage
411 N 17th St.
Philadelphia, PA
$12 flat
Enter from 17th Street
(corner of 17th & Callowhill)
This garage is across Vine Street. It is a 5 minute walk from our office. Ask for Moussa at the garage and he'll point you in the right direction!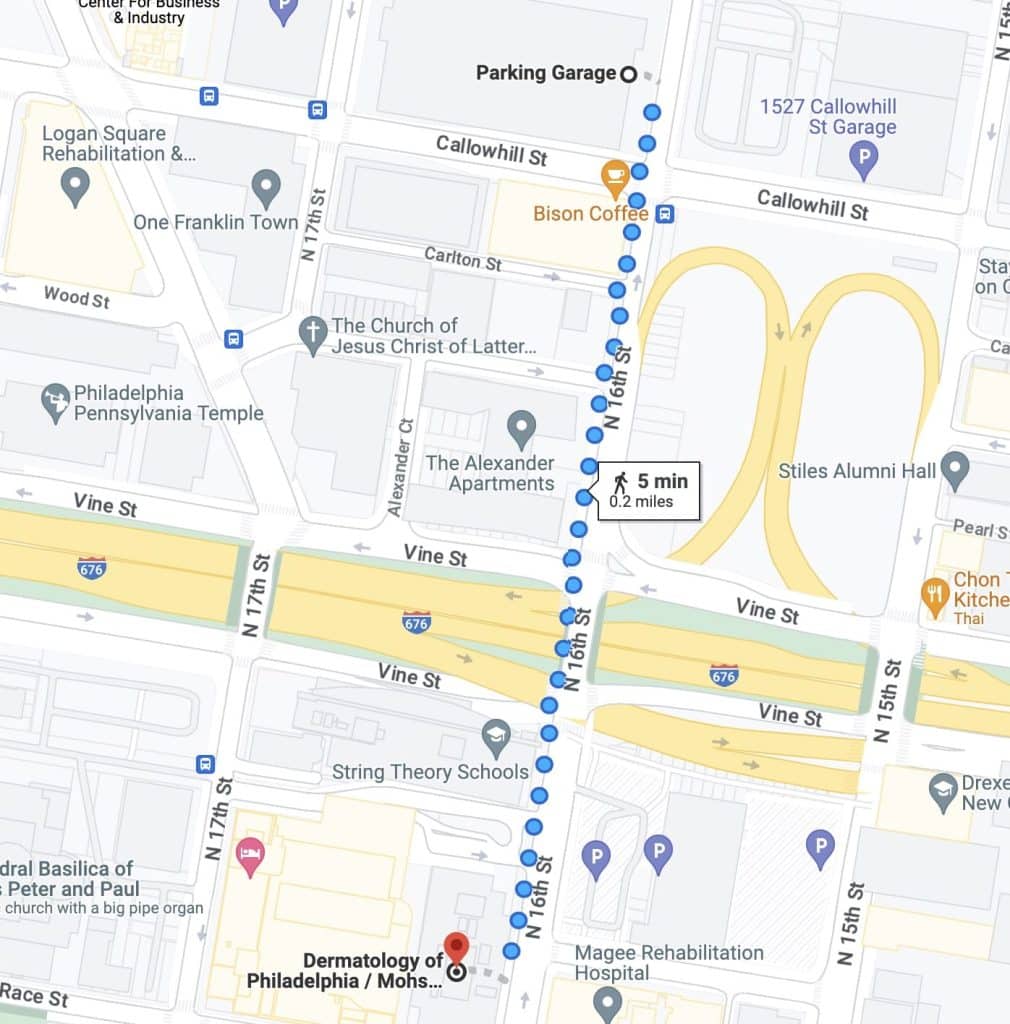 There is good street parking around the office along Race Street, Callowhill Street, Vine Street, and 16th and 17th Streets NORTH of Vine Street
There are longer term meters (3-4 hours) along Vine Street and on all the streets North of Vine Street.
If you are coming up 16th Street, our office will be on the left. Drive across Vine Street and pick any street spot there.
Please be mindful of parking time limits.
You may want to download the MeterUp App below to pay using your smartphone. You can extend the time limit for your parking spot right from your phone!