Interested in improving the appearance of fine lines and wrinkles on your face and neck? Non-surgical, minimally-invasive microneedling treatments at Dermatology of Philadelphia (administered by board-certified dermatologists) may be the solution.
Microneedling utilizes state-of-the-art technology to make precise micro-injuries in the skin to regenerate collagen. This collagen stimulation improves the appearance of fine lines and wrinkles on the face and neck. It can also help improve acne scarring.
This is a well-tolerated, minimally-invasive rejuvenation procedure that is safe for all skin types. Learn more about how microneedling works, what to expect with your treatment, and results.
How does microneedling work?
The microneedling process creates thousands of "micro" skin punctures per second in the skin to stimulate natural healing processes. The micro-channels create inflammation which activates a healing process that includes cell proliferation and a remodeling of tissue including collagen.
A series of several microneedling treatments will give the best results.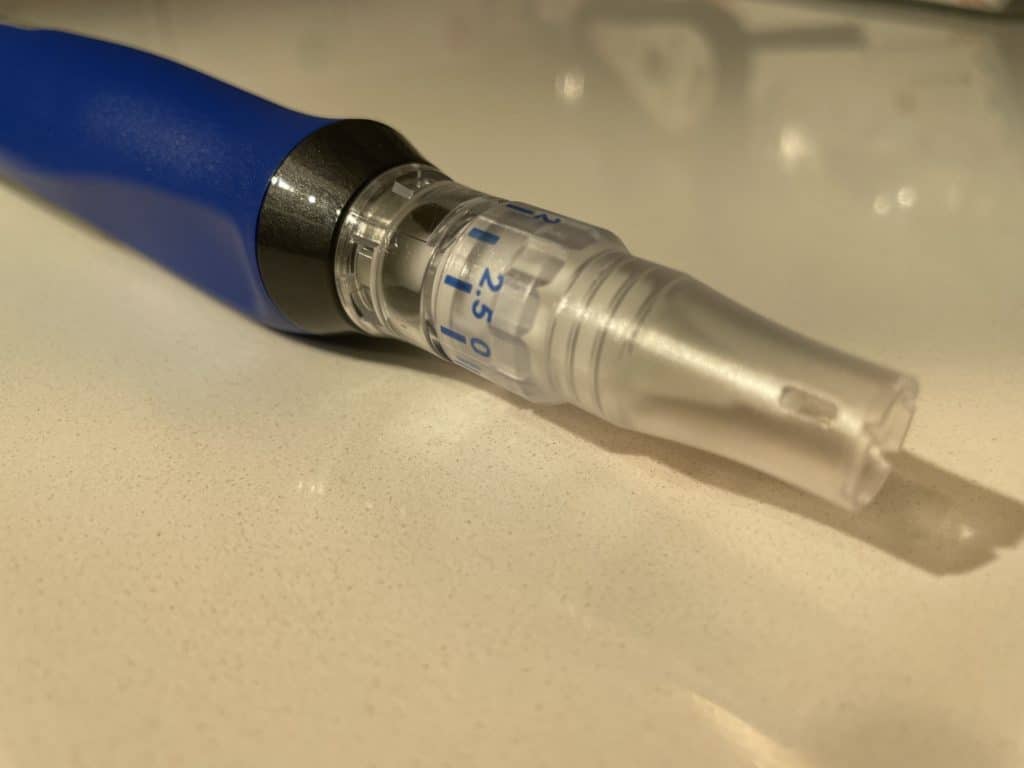 What to expect on the day of your microneedling?
Microneedling with Dermatology of Philadelphia includes five steps:
You will be asked to wash your face and remove all makeup.
A topical numbing cream will then be applied to your face for 20 minutes.
After 20 minutes, the numbing cream will be removed and your face will be sanitized with an antiseptic.
The microneedling device will then be used to glide over the affected areas, gently puncturing the skin in a series of passes across the face.
After your treatment is complete, a hydrating gel will be applied to your face and you will be asked to apply a healing serum for about one week.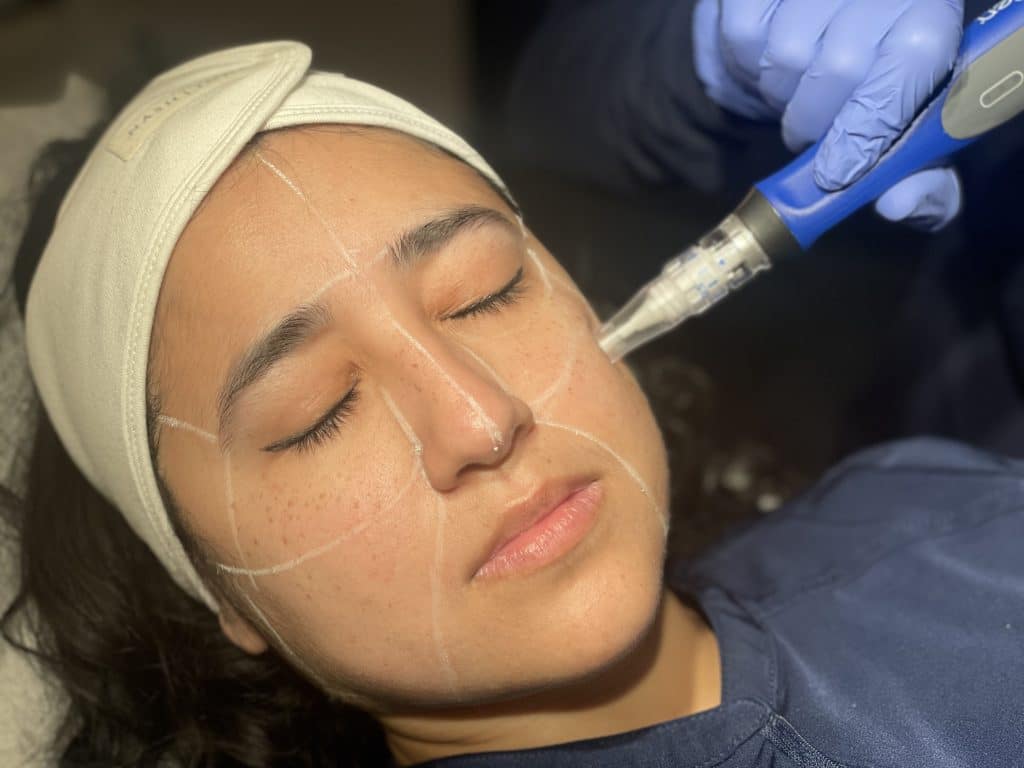 Is microneedling painful?
Microneedling is usually very well tolerated. The intensity of treatment is more than with medical-grade chemical peels but less than that of laser resurfacing. A cool air blower can be used to help with the discomfort.  
Treatment settings can be adjusted for pain and treatment can be stopped early if the process becomes too uncomfortable, but this rarely happens.
What is the downtime with microneedling?
This treatment requires minimal to no down time and normal activities can be resumed within 24 hours after treatment. 
What should you expect after microneedling?
Microneedling is very well tolerated with minimal bothersome side effects. Common responses after treatment include dryness, redness, burning sensation and itchiness. Most of the time these only last 1-3 days.  
Some people experience redness, mild tenderness, and peeling/flaking that can last up to 7 days.
Although not seen in the clinical studies that were used for microneedling approval, some darker skin types may see a temporary darkening of the skin after treatment. If you are prone to darkening, your doctor may prescribe creams to use before and after treatments.
Please call our office if you are experiencing crusting or darkening of the skin.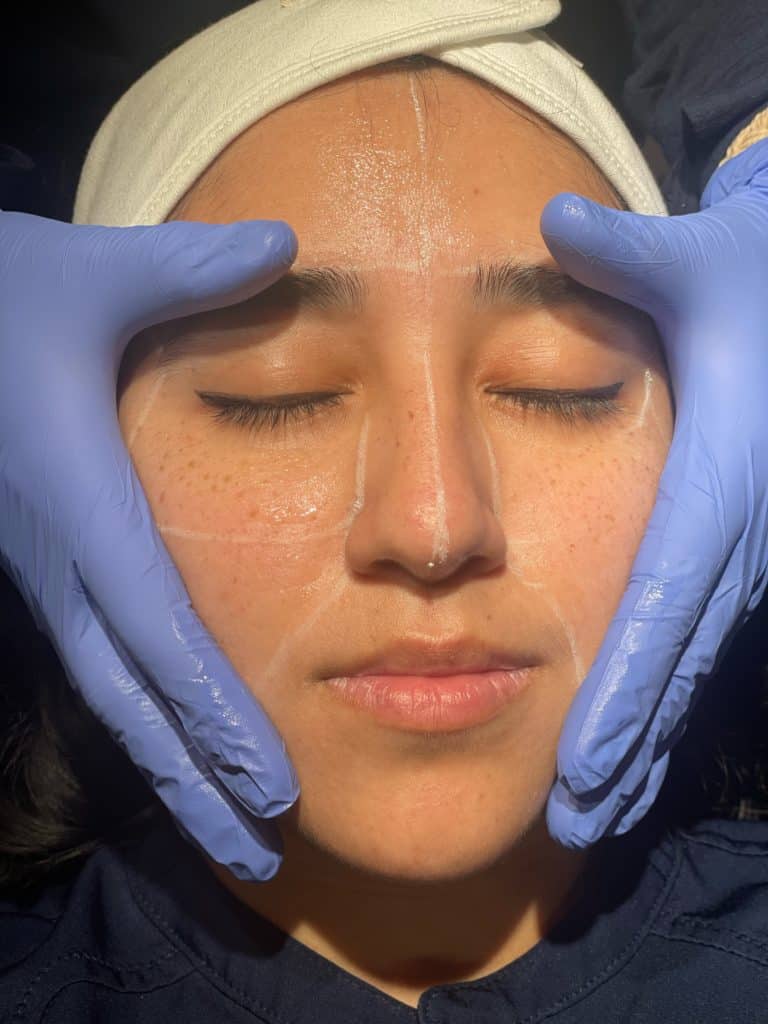 How many treatments are typically recommended?
We typically recommend at least three treatments for skin rejuvenation, and at least six treatments for the improvement of scarring. It is recommended that each treatment be spaced by about 3-4 weeks.
Who should NOT get microneedling?
While this treatment is safe for all skin types, there are certain situations where microneedling is not recommended. 
You should not have a microneedling procedure if you:
a) have open wounds, sores, or irritated skin in the treatment area
b) have an allergy to stainless steel or anesthetics
c) have a bleeding disorder or problems with bleeding/clotting
d) are pregnant or nursing
e) are taking isotretinoin (e.g. Accutane); we recommend waiting 6 months after finishing isotretinoin before starting treatment for acne scars
f) have an active skin cancer in the treatment area
Schedule a Cosmetic Consultation with Derm of Philly
Call (215) 315-3197 today to schedule a consultation for services, and learn how you can achieve the skin of your dreams!